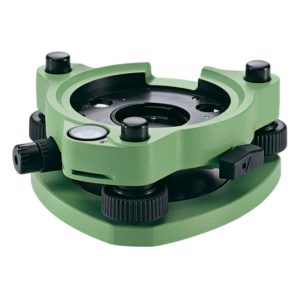 A quality tribrach plays a significant role in instrument stability and measurement accuracy.
Similarly to the stability of the tripod, that of the tribrach is a significant factor in measurement accuracy.
The torsional rigidity, the most important criterion of a tribrach, is constantly controlled and tested during its production.
The maintenance-free foot screws of the Leica Geosystems tribrach provide movement that is always smooth and free of play, even after years of use.
The precise alignment of the support area to the base plate of the instrument assures extremely accurate forced centring.
The optical plummet is so robust that the need for adjustment during the entire lifetime of the tribrach is practically unnecessary.
Its construction predestines the tribrach for all applications, including extreme temperatures and high dust and humidity.
Leica Tribrachs are available with or without optical plummets and in different specifications to meet the requirements of Leica instrumentation accuracy.
Accessories such as Leica Height Meters can be used with certain Leica Tribrach models also with a Leica Height Meter Holder.
As a cost effective or replacement accessory, try our range of Datum Tribrachs for full compatibility with leading manufacturers.
Contact us on 01482 322191 for further information.