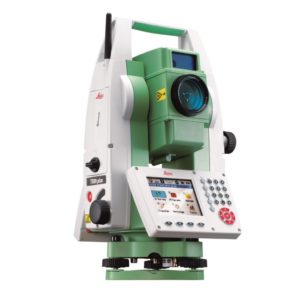 Leica Flexline Plus Total Stations utilise the latest Leica technology to provide hardware and software options for the highest productivity and performance on site.
Impressive features of a Leica Flexline Total Station include Laser Plummet for simple and fast setups, Lithium-Ion batteries providing long, reliable working times and ergonomically designed keyboard for fast data input.
New options on selected Flexline Total Station models include USB data stick compatibility, so you can perform quick cable-free data upload and download operations utilising Leica industrial grade USB sticks, great for backing up your data too.
Reflectorless (Prismless) options of up to 1000m are now available as well as a colour touch screen on some models.
Well protected against dust and water ingress, Leica Flexline Total Stations are built tough for site use and are supplied with a strong instrument case to help keep the water, dust and dirt away from your instrument and accessories.
Confused by all the models and options available? Let one of our specialist team guide you through the range so you get the exact instrument to suit your application.